Farmers harvest rice in Thailand's northern Nan province. PHOTO: Paritta Wangkiat
mekong eye – By Phafan Nokaeo, Tran Nguyen and Sao Phal Niseiy
26 September 2022 at 8:25
Rising fertilizer costs decimate poor Mekong farmers' livelihoods despite their vital role in feeding millions.
BANGKOK, THAILAND ― Skyrocketing prices for fertilizers and agricultural production has pushed farmers in the Mekong region into severe debt and poverty.
Many have been forced to abandon their farms or have been unable to pay their debts and have lost their land, despite their roles in ensuring food security for millions of people.
"This is the worst year for farmers. Everything is more expensive, except rice prices, and they keep dropping," said Prasert Tangthong, 58, a farmer with a small holding in Sing Buri province in central Thailand.
For years, Prasert has been in chronic debt. He had to borrow from loan sharks and the state bank to sustain his farm and his family's livelihood. The recent rise in the cost of production, especially fertilizer, has been a death knell to him.
He had to sell off some electrical appliances and a motorbike to get money to pay off his debts. His wife divorced him recently because he could no longer financially support her.
Prasert is not alone. Farmers across the Mekong region have had difficulties maintaining their production, while commodity prices have been volatile, something that is out of the farmers' control.
The World Bank's commodity price data show that the year-on-year price of di-ammonium phosphate, a fertilizer known as DAP, was 30% higher in July and a massive 150% higher than in 2020 and 2019.The price of potassium chloride and urea increased 168% and 24% from last year, respectively.
The soaring prices have been driven by multiple factors, including export restrictions in China and the war in Ukraine that has prompted trade sanctions against Belarus and Russia – the world's top fertilizer exporters.
https://flo.uri.sh/visualisation/11244102/embed?auto=1
The ongoing price volatility has been a big blow to farmers in the Mekong countries, of which the agriculture sector largely depends on imported chemical fertilizers.
"Price spikes have immediate and long-term direct and indirect impacts on food security. In the near term, higher prices increase production costs and lower input use, negatively impacting food production," said Aziz Elbehri, Senior Economist at the Food and Agriculture Organization (FAO) for Asia and the Pacific.
"Many farmers may also exit farming if no immediate support is provided to mitigate the crisis or if other alternatives are readily available. This may also contribute to longer-term impacts on future production, productivity and farmers' livelihoods."
The long-term impacts will depend on the duration of the price hikes. He added that next year's production seasons are expected to have lower production and more food insecurity, especially among small-scale farmers who depend on farm income for food and nutrition needs.
Vicious cycles of debt
According to the World Bank's 2019 data, the agriculture sector accounts for 31% of total employment in Thailand, 35% in Cambodia, 37% in Vietnam, 49% in Myanmar and 61% in Laos.
But the livelihoods of small-holder farmers have dropped dramatically, despite their large share in regional employment.
About 40% of Thai farmers are still living below the poverty line due to low productivity and a lack of bargaining power in the market. In Vietnam, poverty rates are still much higher among rural and ethnic minority families and households primarily engaged in agriculture, according to the World Bank's report.
In Cambodia, farmers are reported to borrow more to pay for rising production costs, leaving many deep in debt. The majority have relied on imported fertilizer, mainly from Thailand and Vietnam.
"It is hard now because we get the same output while having to spend double to maintain our farms. But if we don't continue farming, we will have nothing to eat," said Red Than, 37, a farmer in Cambodia's Siem Reap province.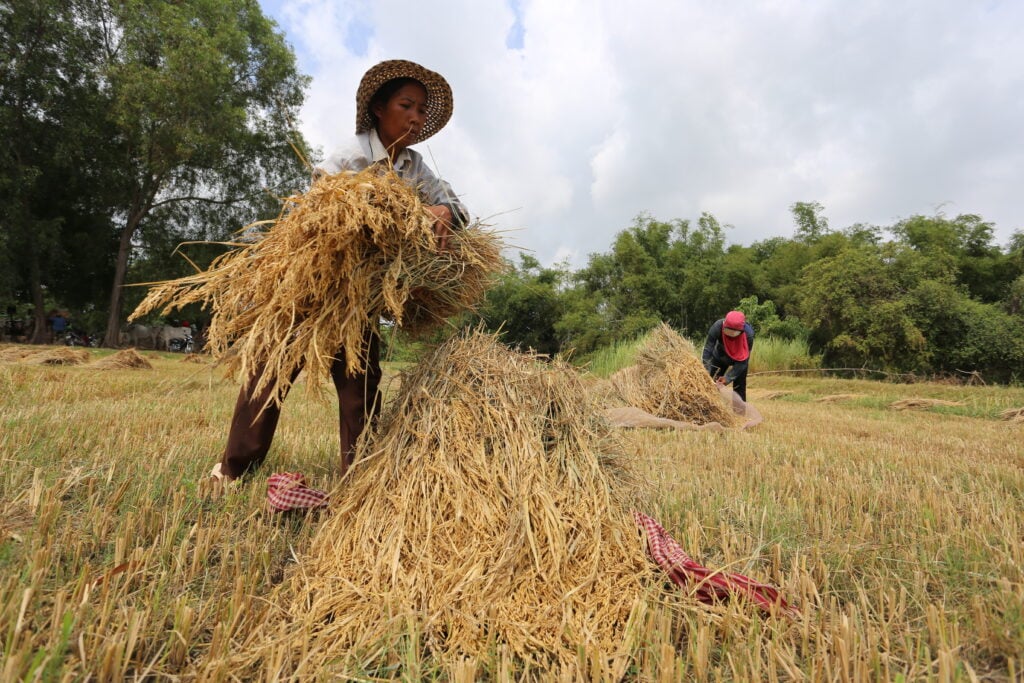 At the beginning of the farming season, farmers borrow money from microfinance institutes or loan sharks to buy necessary items for farming and to cover their own daily expenses. They pay back the loans after they harvest and sell their crops.
It's common that their incomes from their harvest hardly makes ends meet as more than half goes to paying off their debts.
Up to 90% of Cambodian farmers are in debt, according to the Cambodia Microfinance Association. The amount loaned for farming increased from US$1 billion to $1.6 billion in the past five years.
The Cambodian government's data also indicated that the number of loans for agriculture increased by 11% in 2020 and up to 21% in 2021, mainly due to the slumping economy caused by the Covid-19 pandemic.
Despite this vicious cycle of debt, interviews with farmers in Siem Reap province found that many would continue farming because they had no other options. At least their farms can feed their family members, they said.
Land loss and unrest
In Thailand, on the other hand, many rice farmers have considered quitting farming.
"In the future, there will be no rice farmers anymore. Many of us are planning to stop growing rice. The more we farm, the poorer we are. Our generation may be the last generation of rice farmers," said Pinkaew Khunkaewthae, a coordinator of the Farmers Debt Network, a group of Thai farmers calling on their government to solve their debt.
Farmers across Thailand must borrow from loan sharks or the government's banks to sustain their farms. Those who fail to repay their debts face lawsuits and having their land seized by the lenders.
Thailand's Office of Agricultural Economics' (OAE) annual report shows that 7.8 million hectares of farmland was mortgaged, redeemed or free used (which farmers have no land ownership rights to)in 2020, accounting for 62% of the farmland in Thailand.
In Thailand, the term redeemed means the farmer has sold his land to someone else on a temporary basis, with the aim of buying it back. Free use means the farmer does not own the land he grows his crops on.
The Covid-19 pandemic and rising production costs have increased the risk of farmers losing their land.
The Legal Execution Department's data shows that the number of civil cases that involved asset seizures, evictions and properties sold at auction had increased from 329,681 cases (properties valued at $19 billion in total) to 348,573 cases (valued at $16 billion) between 2020 and 2021.
Under pressure from debt and land loss, more than 1,000 farmers camped in front of Thailand's Government House for nearly two months early this year, demanding the government's help.
Their protests added fuel to Thailand's ongoing unrest, which featured a series of protests against the military-led government, with many claiming it had been involved in human right violations and suppressing freedoms.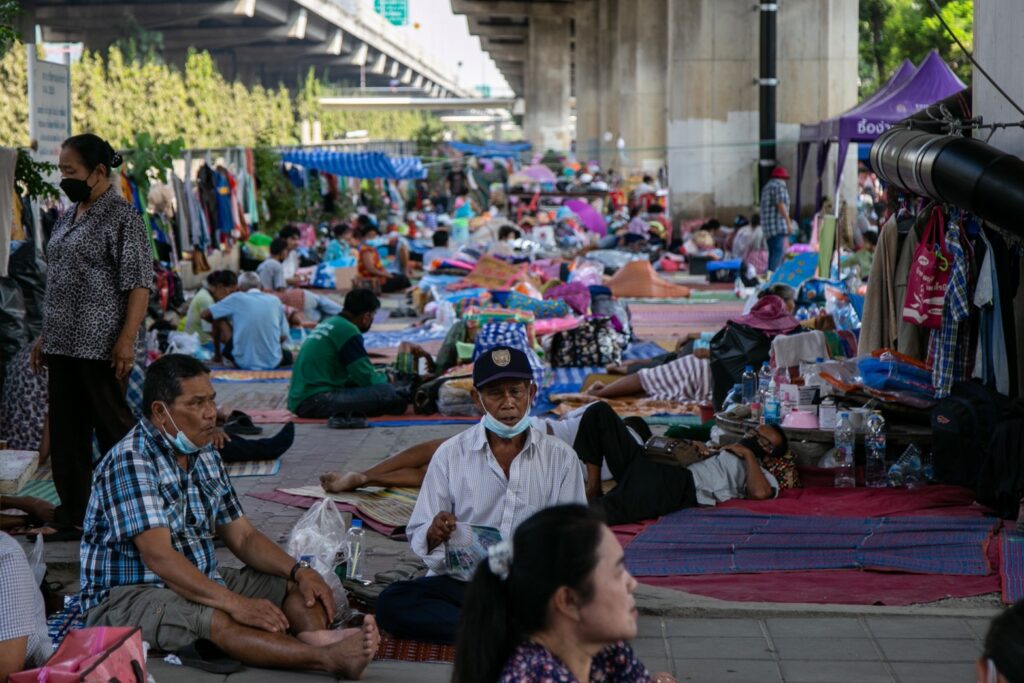 Farmers, most of them senior citizens, urged the banks to delay lawsuits involving the farmers' property seizures and also to reduce the debt for vulnerable farmers, including those living with disabilities, illness and infirmity.
Increasing fertilizer prices may lead to developmental conflict in the near future. In June, the Thai cabinet gave the Asia Pacific Potash Corporation (APPC), a wholly-owned subsidiary of Italian-Thai Development Plc, permission to pursue a potash mining project in the country's northeastern Udon Thani province.
The move was clearly prompted by fertilizer price hikes. The government expects the mining concession to lead to the production of 200-million tons of potash a year, which will be used in domestic fertilizer production and reduce the reliance on imported fertilizer.
The project, which was proposed 20 years ago, has generated protests by local communities near the mining site who fear it will cause a negative environmental impact. The conflict between local community members, the mining company and authorities would heat up if the company is granted the concession.
Abandoning farming
Vietnamese farmers are no exception. They are bearing the brunt of the biggest spike in fertilizer prices in 50 years that started at the time of Covid-19 movement restrictions last year and shot up dramatically after war broke out in Ukraine.
In only two years, the prize of fertilizer in Vietnam rose by 300%. Pesticide prices followed, jumping by 20-30%. So did labor costs, with tillage and harvesting up a whopping 750% and 730%, respectively.
Total investment costs have risen by more than 40% compared with two years ago, reaching about $980 per hectare, excluding the owners' labor.
Nguyen Anh Dung, 53, a farmer from Vietnam's southern Dong Thap province, said farmers in his community had recently abandoned their rice plots because they could not afford the rising production costs anymore. Others chose to switch to growing fruit and vegetables that have higher value and require less irrigation than rice.
This reflects a wider trend in southern Vietnam, home the Mekong Delta, the country's rice bowl. In the summer-autumn crop of 2022, the total sowing area in the region was more than 1.5 million hectares, down by 20,000 hectares from the previous year.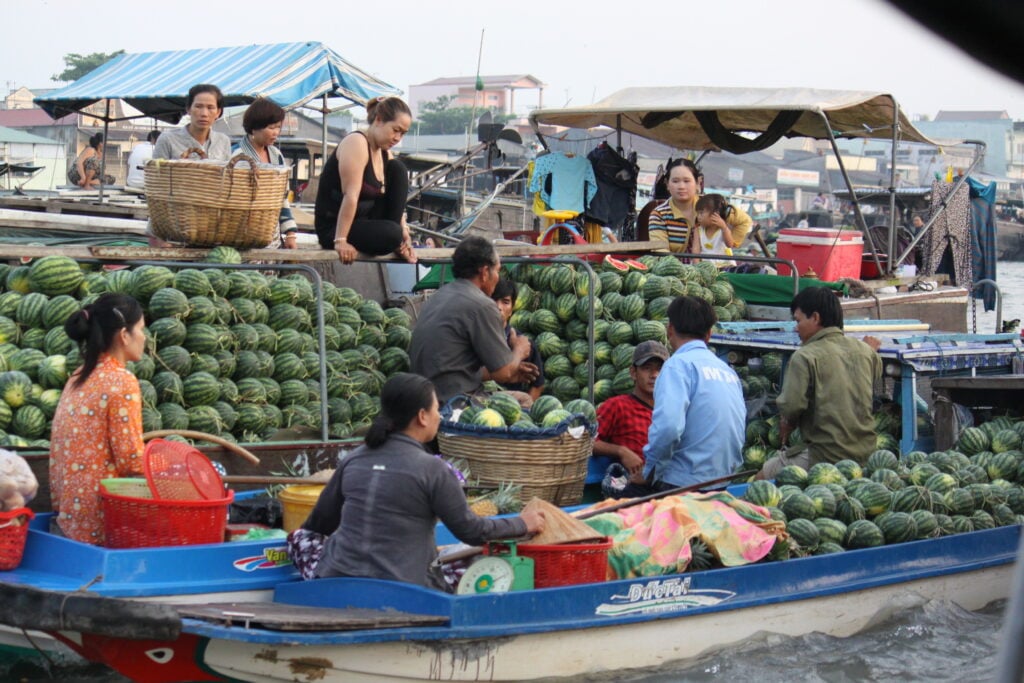 In response to the crisis, the Ministry of Agriculture and Rural Development launched a "revolution" to reduce rice production costs. The government tested and introduced new planting models that rely on less fertilizer and other inputs while maintaining high yields.
At the forefront is a "one must, five cuts" campaign that instructs farmers to use designated rice varieties while cutting down on fertilizer, pesticides, pumping costs, harvesting costs and post harvesting losses.
Elbehri from the FAO Asia and the Pacific said the farmers' options for less fertilizer use, and planting substituted crops that need less fertilizer, are location specific.
"The current crisis may encourage new practices that rely less heavily on fertilizer or use alternative fertilization methods," he said.
"One promising avenue is the acceleration of digital or smart technologies that enable more targeted use of water and fertilizer, reducing the number of inputs without sacrificing yields. But these are longer term innovations that require time, dedication, and support."
Changing practice
"Rising fertilizer prices is an opportunity for farmers to change their farming practices, so they rely less on chemical fertilizers to increase yield," said Vo Tong Xuan, Vietnam's leading rice expert.
On average, Vietnamese farmers use 753 kilograms of fertilizer per one hectare of farmed land, higher than the global average. In the Mekong Delta alone, farmers use fertilizer 45% more than the national average, and accounting for more than 50% of production costs.
Xuan said most farmers are used to applying too much nitrogen-based fertilizer. On average, 40-70% of nitrogen-based fertilizer that farmers apply evaporates as greenhouse gases, polluting the environment.
But even technical support from experts and agricultural officials can only so do much. Dung, the farmer, said the biggest barrier preventing farmers from relying less on chemical fertilizers was the lack of price and quality transparency in the market for organic and microbiological fertilizers.
"From my observation, I see that only about 20% of farmers have agreed to switch to organic fertilizer. The rest are content with lower profits when using chemical fertilizer because it's less tiring," said Dung, a farmer from Vietnam's Dong Thap province.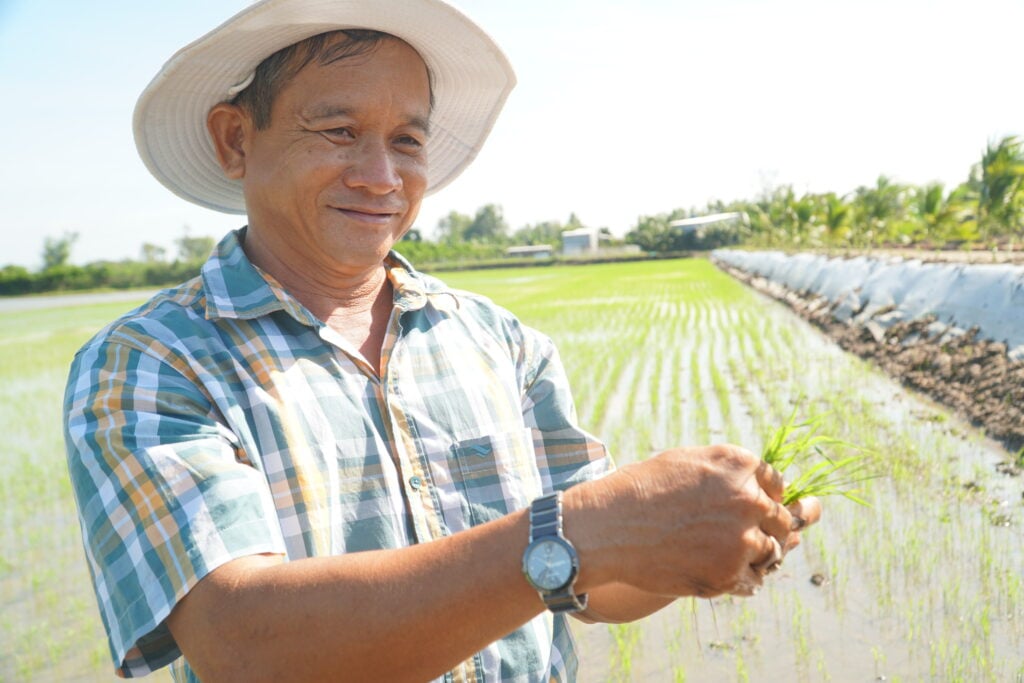 Switching to organic methods requires knowledge, and a lot of time and effort. It took Dung four years of trial and error to finally gain the confidence to switch to organic methods as fertilizer prices started to rise two years ago.
The total fertilizer costs per hectare borne by him for the last season was about $425 less compared with using 100% chemical fertilizer. Meanwhile, his yield has remained the same.
"If you ignore the price of rice, I've made a profit of 10 million VND ($425) per hectare just by lowering production costs," he said.
He plans to continue using organic methods, even if fertilizer prices were to drop in the future. But farmers like Dung are an exception rather than a rule.
---
This story was produced through the Mekong Eye's collaboration with individual journalists and newsrooms in Cambodia and Thailand ― Cambodianess and the Momentum. It was supported by Internews' Earth Journalism Network.
Cambodianess is an English news outlet spearheaded by young journalists and run under Thmey Thmey Media.
The MOMENTUM is a Thai online news media outlet reporting on social and political issues. Its newsroom sets a mission to create a better and equal society.
Images are supplied by Paritta Wangkiat, Mekong Eye's editor.